In his post, Matthew Walker's "Why We Sleep" Is Riddled with Scientific and Factual Errors" (see our discussions here, here, and here), Alexey Guzey added the following stunner: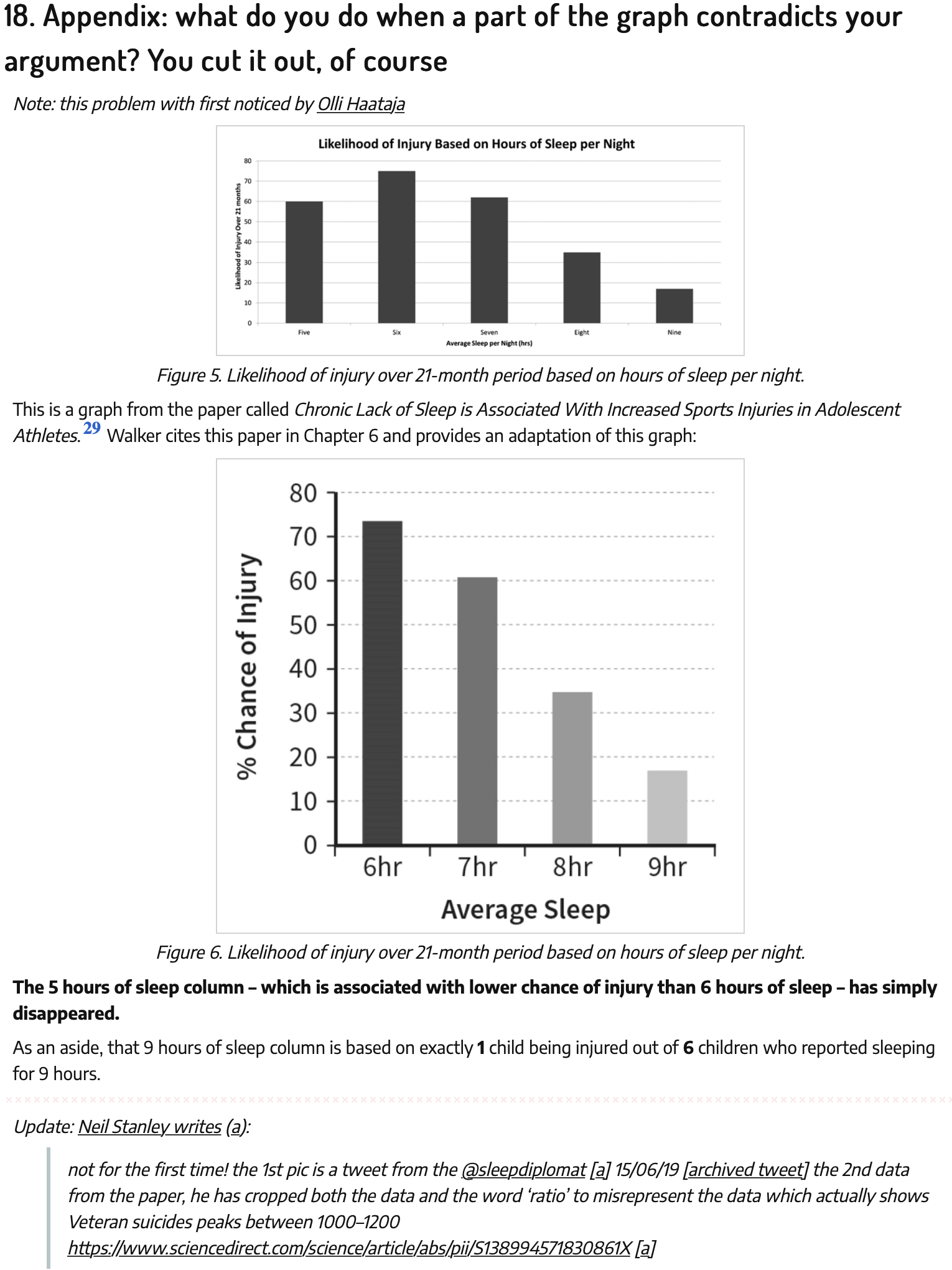 We've left "super-important researcher too busy to respond to picky comments" territory and left "well-intentioned but sloppy researcher can't keep track of citations" territory and entered "research misconduct" territory.
From the Public Health Service (PHS) Policies on Research Misconduct – 42 CFR Part 93 – June 2005, here's what the National Institutes of Health says:
Sec. 93.103 Research misconduct.

Research misconduct means fabrication, falsification, or plagiarism in proposing, performing, or reviewing research, or in reporting research results.

(a) Fabrication is making up data or results and recording or reporting them.

(b) Falsification is manipulating research materials, equipment, or processes, or changing or omitting data or results such that the research is not accurately represented in the research record.

(c) Plagiarism is the appropriation of another person's ideas, processes, results, or words without giving appropriate credit.

(d) Research misconduct does not include honest error or differences of opinion.
This came up a couple years ago in discussions of Game-of-Thrones-hating business-school professor Brian Wansink.
The above-shown bit from How We Sleep seems to fall right in category (b) of research misconduct: "changing or omitting data or results such that the research is not accuraely represented in the research record."
OK, those are the National Institutes of Health rules. Now check this out from the web page of the University of California, where Matthew Walker is a tenured professor:
"Why we sleep" with Matthew Walker . . .

Matthew Walker earned his PhD in Neurophysiology from the Medical Research Council in London, UK, and subsequently became a Professor of Psychiatry at Harvard Medical School. He is currently Professor of Neuroscience and Psychology at the University of California, Berkeley, and Director of the Sleep and Neuroimaging Laboratory. He has received numerous funding awards from the National Science Foundation and the National Institutes of Health [emphasis added], and is a Kavli Fellow of the National Academy of Sciences.
If I were living in this country, I'd be pretty angry to hear that U.S. National Institute of Health dollars are being used to fund work that satisfies the National Institute of Health definition of research misconduct. . . . Hey, I do live in this country! Color me angry that my tax dollars are being spent in this way. But I don't live in California so maybe I have no standing to complain about his support from the state university.
Still, at a salary of $214,029.00, you'd think the guy could afford to hire a research assistant who was competent enough to be able to redraw graphs from the literature without omitting key data. Or maybe an overly enthusiastic research assistant cut off the left bar on the above graph on purpose, in order to make the claims in Why We Sleep seem more compelling? I guess we'll never know.
This seems like a good time to revisit that Dan Davies line:
Good ideas do not need lots of lies told about them in order to gain public acceptance.